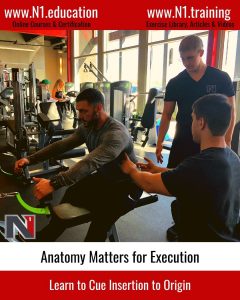 It's much easier to choose effective exercises and set them up properly when you understand anatomy.
Learning the origin and insertion point of each muscle you're trying to train allows you to adjust the setup of exercises to fit your structure. You'll be able to understand how to line up the resistance against the line of pull of the muscle, and you'll also be able to distinguish which exercises are a waste of time.
It also gives you some freedom to get more creative with exercise selection and is the foundation to being able to apply more advanced training concepts and techniques. It all starts with anatomy.