One of the biggest failures in the health industry was the introduction of the low fat diet.  Several long articles and books have been written dissecting the research and implicating that the obesity epidemic we now have today was caused by the low fat movement.  It all started when research began towards the end of World War II investigating the causes behind increases in heart attacks. The research was very badly done, and not double checked.  Long story short, it was saturated fat and cholesterol that got the bad wrap. So the USDA and AMA came out and said therefore we need to start taking fat out of our diet.  
Unfortunately, this research failed to associate the fact that sugar consumption paralleled fat consumption when there was an increase in cholesterol and heart disease.  In other words the research that showed increased fat intake increased cardiovascular disease risk, also showed that increased sugar intake was involved. In fact, it is the fructose in sugar and carbohydrates that increases triglycerides and bad cholesterol.  Had they done a double blind study where one group had low sugar and high fat and the other high sugar and low fat, the world would be a very different place today. Instead, the governing organizations jumped on the low fat idea and tried to pass it off as science.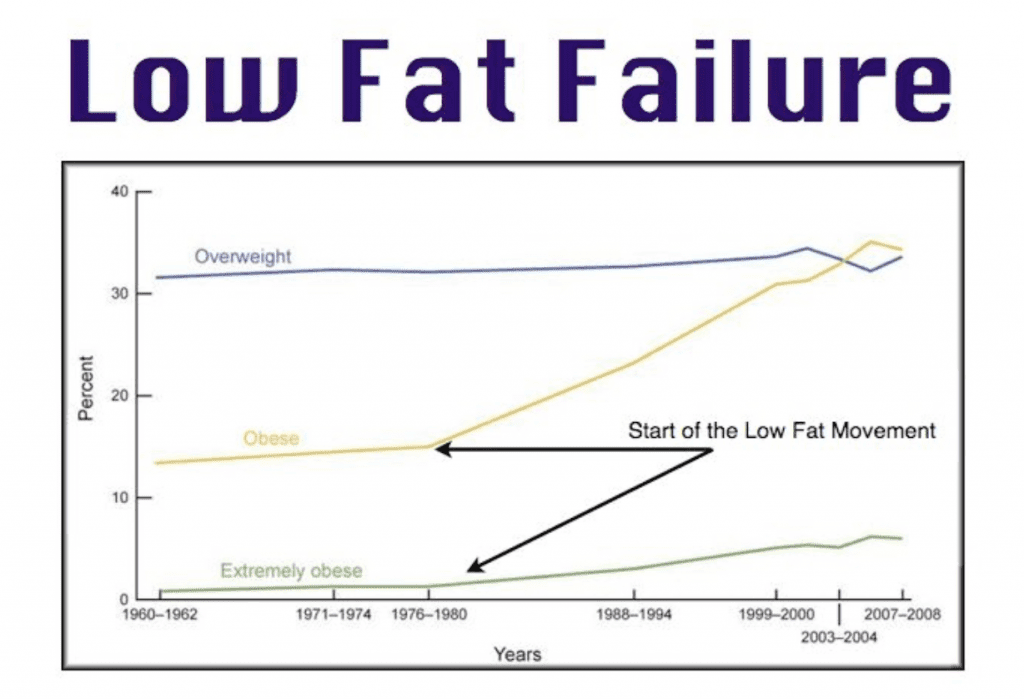 The results showed that as fat was removed from the diet, obesity increased proportionately.  The reason for this is that people didn't just eat less when they ate lower fat diets. They actually ate more.  Specifically, they ate more carbohydrates. Fats are an essential part of the diet.